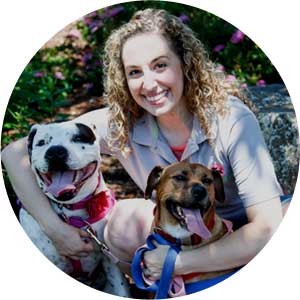 Amy
Owner & Dog Walker
Hi! My name is Amy and I've been called a "Dog Enthusiast" ever since I can remember. I think that's the nice way of saying "Dog Nut".
I grew up in Framingham, Massachusetts where my dog obsession began at six-years- old when my parents finally gave in to the relentless pleads of my sister and I for a family dog. Mackie, a Wheaton terrier, was my best friend growing up and we did everything together. When I graduated high school and left him behind to study Psychology at Quinnipiac University, I was absolutely miserable! Luckily, I was only an hour and a half away from home and I could visit on weekends if I needed my doggie fix. I was so thankful to get that time with him, because the winter break of my senior year, Mackie passed away.
---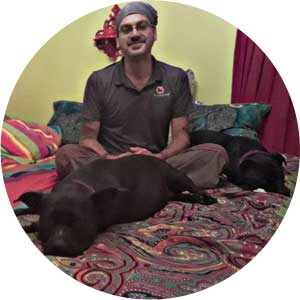 Mike
Manager & Dog Walker/Pet Sitter
Hello!! My name is Mike, and I'm positively effervescing with love for dogs of all shapes, sizes, colors, and temperaments! Being crazy for dogs is what led me here to YLD, but that journey started a long time ago when I was a kid growing up in Naugatuck.
My childhood dog was a German Shepherd named Sheba, and this sweet lady was a major lover with an affinity for sunbathing and belly rubs. She also created a soft spot in my heart for big dogs that has stayed with me to this day. We had many Lassie-esque adventures together, and while she left me with an incurable fondness for all four-legged friends, it wasn't until many years later that I fully understood the pure and complete love that we as humans can experience in our relationships with our canine counterparts.
---
Jenny
Dog Walker/Pet Sitter
Hometown
East Haven, CT
Favorite Dog Nickname
Boots
Experience With Pets
I've always loved animals since I was a little girl and I grew up having lots of pets. About ten years ago I started dog sitting and dog walking on the side for extra cash. It's not about the money though, I enjoy being able to care for dogs and cats while their owners are at work or away on vacation!
Current Pets
I don't have any right now, however I did have a dachshund/beagle mix named Marley.
Favorite Part About Working at YLD
My favorite part about working for YLD is meeting different dogs every day and caring for them as well.
Why I Like Working With Pets
I love working for pets because they are always happy to see you and I enjoy being around them daily.
Favorite Types of Pets
Dogs, cats , and monkeys!
Dream Pet
I love all dogs but one day I would like to own my own baby monkey.
---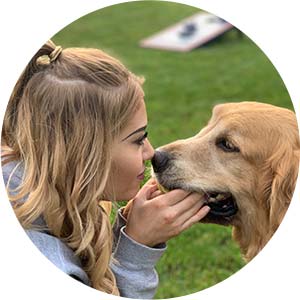 Lauren
Dog Walker/Pet Sitter
Hometown
Cheshire, CT
Favorite Dog Nickname
Peanut butter and Jilli
Experience With Pets
I've been pet sitting and dog walking for about 5 years now! I started when I was 16, mostly pet sitting and then branched into dog walking and since then have known it's something that I want to do for a long time! I've cared for all different types of dogs, cats, reptiles, and other animals as well! I love being able to show dogs they're loved when their parents have to work or want to take a vacation! I've also dealt with animals with sicknesses and different physical issues! Since being with the You Lucky Dog team I have loved every second of it and every dog I've met!
Current Pets
I have a golden retriever who is 13 years old and her name is Jilli!
Favorite Part About Working at YLD
Seeing how excited every dog gets when I walk into their home and just knowing that I can help ease the parents minds when they see how loved their pet is by us!
Why I Like Working With Pets
I like working with pets because they help me in so many ways and I get to help them! It's so warming to know that animals love us their entire lives and it's awesome being able to show them they're loved as well.
Favorite Types of Pets
My favorite types of pets are dogs, kittens, and reptiles!
Dream Pet
My dream pet is a blue nose pit bull and another golden retriever!
---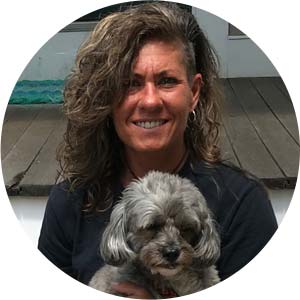 Wendy
Dog Walker/Pet Sitter
Hometown
West Haven, CT
Favorite Dog Nickname
Bubba
Experience With Pets
There has almost always been a dog in my home from the time I was born. Over the years I've had a menagerie of pets-dogs, cats, many varieties of birds-including chickens, lizards, fish, a chinchilla, guinea pigs and other small animals. In 2008, I received my Associates in Veterinary Science, and the same year passed NAVTA's (National Association of Veterinary Technicians in America) national exam and received my CVT (Certified Veterinary Technician). I worked mostly with dogs and cats, but also have farm animal experience. Over the years, I have done a lot of pet sitting with clients of practices I worked for, including overnight care in the pet's home, and sometimes even having the pet stay at my home.
Current Pets
Moshi- my heart and soul-an orange cat who literally ran into my life and adopted me. And my newest edition, my second cat Gypsy!
Favorite Part About Working at YLD
I've always loved being outside no matter the season, and am an avid walker. Working for YLD lets me do all the things I love most while being able to pursue my passion of providing care to dogs (and any other critters a home may have.)
Why I Like Working With Pets
Unconditional love, both ways.
Favorite Types of Pets
I love them all. They are all so unique, and I have had so many wonderful experiences with all my different pets over the years. I do feel though, the love, loyalty, and companionship from a dog is like no other.
Dream Pet
Though I hope to have my own dog again soon, my dream pet-I absolutely adore Nigerian Dwarf Goats.