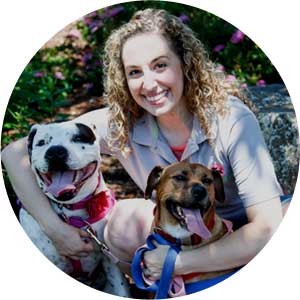 Amy
Owner & Dog Walker
Hi! My name is Amy and I've been called a "Dog Enthusiast" ever since I can remember. I think that's the nice way of saying "Dog Nut".
I grew up in Framingham, Massachusetts where my dog obsession began at six-years- old when my parents finally gave in to the relentless pleads of my sister and I for a family dog. Mackie, a Wheaton terrier, was my best friend growing up and we did everything together. When I graduated high school and left him behind to study Psychology at Quinnipiac University, I was absolutely miserable! Luckily, I was only an hour and a half away from home and I could visit on weekends if I needed my doggie fix. I was so thankful to get that time with him, because the winter break of my senior year, Mackie passed away.
---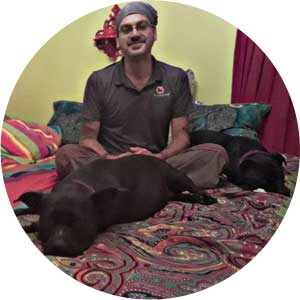 Mike
Manager & Dog Walker/Pet Sitter
Hello!! My name is Mike, and I'm positively effervescing with love for dogs of all shapes, sizes, colors, and temperaments! Being crazy for dogs is what led me here to YLD, but that journey started a long time ago when I was a kid growing up in Naugatuck.
My childhood dog was a German Shepherd named Sheba, and this sweet lady was a major lover with an affinity for sunbathing and belly rubs. She also created a soft spot in my heart for big dogs that has stayed with me to this day. We had many Lassie-esque adventures together, and while she left me with an incurable fondness for all four-legged friends, it wasn't until many years later that I fully understood the pure and complete love that we as humans can experience in our relationships with our canine counterparts.
---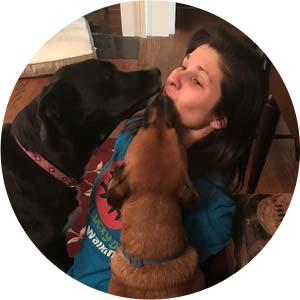 Kat
Dog Walker/Pet Sitter
Hometown
Hamden, CT
Favorite Dog Nickname
Anything Butt! So, with my Jake, it's Jakey Butt, with my Babe it's Baby Butt. I am also partial to "nugget"!
Experience With Pets
Since I've existed, I've been surrounded by pets! We're a mostly doggie household, but I love my big fat cat, Chappelle! I've also been dog walking for years, so I have gotten to know and play with lots of different furry personalities!
Current Pets
I have an amazing little Black Mouth Cur, Jake, a Lab/Border collie/Boxer mix Diva named Babe, and of course, there's my chill fat cat, Chappelle.
Favorite Part About Working at YLD
I love that my job is making sure dogs are happy, walked, and cared for. These are the best co-workers! I go home every day with a huge goofy grin on my face and looking forward to the next day!
Why I Like Working With Pets
I love animals! They are direct, full of love, and I love knowing that I am a part of their day!
Favorite Types of Pets
Dogs truly own my heart, but I have a soft spot for cats with attitude!
Dream Pet
My fur babies are definitely my dream come true! So I'm going to cheat and say my Babe, Jake, and Chappelle are my dream pet. All combined they make one energetic-yet-somehow-relaxed, furry diva mess of love!
---
Tina
Dog Walker
Hometown
Hamden, CT
Favorite Dog Nickname
BooBoo
Experience With Pets
I grew up with dogs, cats, and other small creatures. This is where my passion for animals started! I have worked at an animal shelter as a Kennel Attendant since July of 2015, caring for all types of animals.
Current Pets
I have a 10 year old Pekingese named Jillian and a 6 year old Pitbull type named Bella aka BooBoo.
Favorite Part About Working at YLD
I think my favorite part of working for YLD is spending time with all of the different dogs and getting to see all their different personalities!
Why I Like Working With Pets
I love working with pets because they are always happy to see you, love unconditionally and I just love hanging out with them!
Favorite Types of Pets
I love all animals, but my favorites are dogs.
Dream Pet
I already have my dream pets, Jillian and Bella! They are far from perfect but they are the loves of my life!