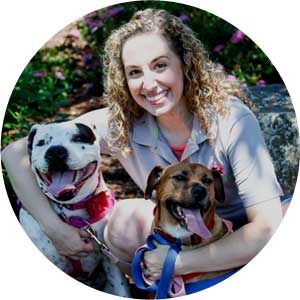 Amy
Owner & Dog Walker
Hi! My name is Amy and I've been called a "Dog Enthusiast" ever since I can remember. I think that's the nice way of saying "Dog Nut".
I grew up in Framingham, Massachusetts where my dog obsession began at six-years- old when my parents finally gave in to the relentless pleads of my sister and I for a family dog. Mackie, a Wheaton terrier, was my best friend growing up and we did everything together. When I graduated high school and left him behind to study Psychology at Quinnipiac University, I was absolutely miserable! Luckily, I was only an hour and a half away from home and I could visit on weekends if I needed my doggie fix. I was so thankful to get that time with him, because the winter break of my senior year, Mackie passed away.
---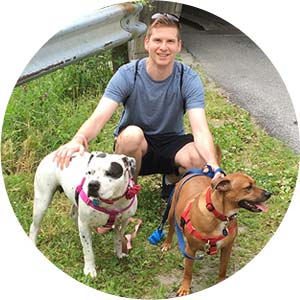 Matt
Business Operations
Hi, my name is Matt. I'm Amy's husband and co-founder of You Lucky Dog! Dogs have always been a big part of my life, from when I was growing up to present day. I grew up in rural New Jersey where we often joked that there were more cows than people. Luckily, living in the country was the perfect place to own dogs.
My first dog was a beagle named Roscoe who joined my family around the same time as I did. He was my best four-legged friend from birth and the epitome of an outdoorsy dog. We had a big yard to explore where Roscoe loved being outside in the woods, sniffing anything and everything! Roscoe was quite the explorer and I loved playing outside and going on adventures with him.
---
Mike
Manager & Dog Walker/Pet Sitter
Hello!! My name is Mike, and I'm positively effervescing with love for dogs of all shapes, sizes, colors, and temperaments! Being crazy for dogs is what led me here to YLD, but that journey started a long time ago when I was a kid growing up in Naugatuck.
My childhood dog was a German Shepherd named Sheba, and this sweet lady was a major lover with an affinity for sunbathing and belly rubs. She also created a soft spot in my heart for big dogs that has stayed with me to this day. We had many Lassie-esque adventures together, and while she left me with an incurable fondness for all four-legged friends, it wasn't until many years later that I fully understood the pure and complete love that we as humans can experience in our relationships with our canine counterparts.
---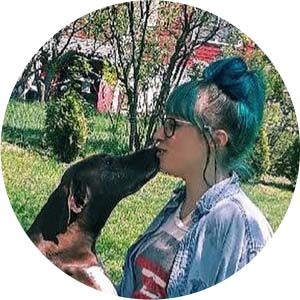 Ilanna
Dog Walker/Pet Sitter
Hometown
Hamden, CT
Favorite Dog Nickname
I love calling the girls "princess" or the boys "honey boys".
Experience With Pets
I grew up obsessed with dogs between the movie Air Bud and 101 Dalmatians of course. I probably had 101 stuffed animal dog toys. I was even a dog for Halloween one year. I had a Shetland Sheepdog named JuJu growing up. She was more of my parents dog and older when I was little. So I never felt truly connected with her. Of course we had amazing moments and cute memories together, but she was older and did not have as much energy as little me did.
Eventually she sadly passed away and I begged and begged for years to get a dog. We had all cats at the time and I adored them just as much… But I wanted a dog and wouldn't stand for anything less. Finally after when I was 10 years old we got a Miniature American Eskimo dog named Icey! My dreams had come true. We became best friends since day one. I was over the moon to have a pup in my life! Branching out into my adult life and leaving home I had lived with some bigger dog breeds (Leon Burgers and Great Pyrenees) and just fell more in love with dogs in general.
Now I don't own any dogs, but I do have two beautiful cats. I've always had a deep love for animals, all animals. I have never worked with dogs or animals before but I always wanted to. I would pet sit for friends or loved ones and of course always stop to pet dogs on the street or gush over viral dog videos online. Working at YLD and being able to express my admiration for dogs and animals for a living is a dream come true! Just like that little girl who begged for a puppy and eventually got one….It's a similar feeling! 🙂
Current Pets
I have two amazing and beautiful cats. Both are boys, my babies…..Muta is a very light sandy orange tabby cat and Kamaji is a grey, brown, spotted tabby rescue from a local shelter Halfway Home. They are both just over 1 year old and make my life very special.
Favorite Part About Working at YLD
My favorite part of YLD is getting to work with animals! I adore gaining deep bonds with so many dogs. It's an amazing feeling to be able to make a more shy dog feel super comfy with you! Breakthroughs are so beautiful and such an amazing accomplishment. It's so cool to get to visit different 'friends' each week. I also really love being able to be outside and in nature on a daily basis!
Why I Like Working With Pets
I like working with animals because I feel like they have a sense of inner knowing. More than people do. They just 'know' when you're sad or not having the greatest day and they will give you a big kiss or hug and just totally cheer you up. They are always happy to see you, no matter what. Unlike working with people who all have different moods and perspectives and may not be so happy all the time to see your face. Getting a morning greeting on your first walk from a happy pup is way better than getting the groan of a monotone "happy Monday" in an office building.
Favorite Types of Pets
Since I have two beautiful cats, of course everyone is biased to their own babies…so I'd have to say my boys (Muta and Kamaji). However I also love and miss my dog Icey who sadly passed away a few years ago 🙁
Growing up I also had this very special cat named Morris who would take baths with me. Sadly he had a heart condition and didn't live a long life. He was gone too soon! All of these pets stay in my heart forever and I have so many photo memories to keep them alive.
Dream Pet
I would love to own a dog one day! I know owning a dog is a huge responsibility and I would want to give my pet the best life possible. So I am currently still dreaming and debating on the breed. Lately I've really been liking the Catahoula dogs and Australian Cattle dogs. In addition to a dog. One day I will definitely have more cats, I would love to own a Spynx or an Oriental breed. I think it's probably every animal-lovers dream to have all the pets. I'd really love to have horses, or even habilitate some more exotic animals like foxes, opossums, or bats!
---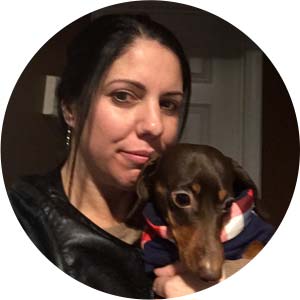 Jenny
Dog Walker/Pet Sitter
Hometown
East Haven, CT
Favorite Dog Nickname
Boots
Experience With Pets
I've always loved animals since I was a little girl and I grew up having lots of pets. About ten years ago I started dog sitting and dog walking on the side for extra cash. It's not about the money though, I enjoy being able to care for dogs and cats while their owners are at work or away on vacation!
Current Pets
I don't have any right now, however I did have a dachshund/beagle mix named Marley.
Favorite Part About Working at YLD
My favorite part about working for YLD is meeting different dogs every day and caring for them as well.
Why I Like Working With Pets
I love working for pets because they are always happy to see you and I enjoy being around them daily.
Favorite Types of Pets
Dogs, cats , and monkeys!
Dream Pet
I love all dogs but one day I would like to own my own baby monkey.
---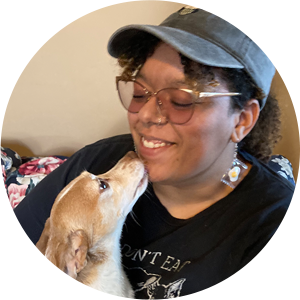 Kayla
Dog Walker/Pet Sitter
Hometown
East Haven, CT
Favorite Dog Nickname
Lil Baby or Honey Bear
Experience With Pets
I've always had a dog as a pet my whole life! I remember clearly when I got my first dog! He was a long haired chihuahua and we named him Lucky! I always say I was the lucky one, since I got to spend 15 years with that pup, adding more dogs to our little family throughout the years! I've now been working with dogs of all shapes, sizes, and breeds for 3+ years and I've loved getting to spend so much time with them!
Current Pets
I currently have 3 dogs, all a little family of Chihuahuas! Kermie, Baby & Merlin! Funny enough, Baby is actually a mom and Merlin is her and Kermie's tiny son!
Favorite Part About Working at YLD
My favorite part of working for YLD is that one-on-one time with each pet!! I used to work at a doggie daycare and that one-on-one time was nearly impossible to have. I love really getting to know and bond with each dog and have our relationship grow each time I see them!
Why I Like Working With Pets
I love working with pets because i love animals! It's truly impossible to have a bad day when your job is to hang out with smiley, goofy, and snuggly dogs!
Favorite Types of Pets
I love dogs and cats! I've always had dogs and had a few cats over the years and I just love them!
Dream Pet
I don't specifically have a dream pet! I really love all dogs and cats! Whoever I bond with and have that "love at first sight" moment when I'm finally on the hunt for my own pet in the future will be my dream pet!
---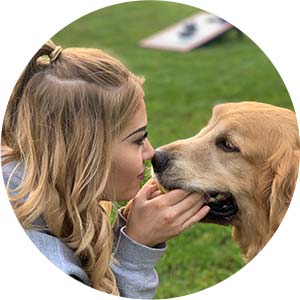 Lauren
Dog Walker/Pet Sitter
Hometown
Cheshire, CT
Favorite Dog Nickname
Peanut butter and Jilli
Experience With Pets
I've been pet sitting and dog walking for about 5 years now! I started when I was 16, mostly pet sitting and then branched into dog walking and since then have known it's something that I want to do for a long time! I've cared for all different types of dogs, cats, reptiles, and other animals as well! I love being able to show dogs they're loved when their parents have to work or want to take a vacation! I've also dealt with animals with sicknesses and different physical issues! Since being with the You Lucky Dog team I have loved every second of it and every dog I've met!
Current Pets
I have a golden retriever who is 13 years old and her name is Jilli!
Favorite Part About Working at YLD
Seeing how excited every dog gets when I walk into their home and just knowing that I can help ease the parents minds when they see how loved their pet is by us!
Why I Like Working With Pets
I like working with pets because they help me in so many ways and I get to help them! It's so warming to know that animals love us their entire lives and it's awesome being able to show them they're loved as well.
Favorite Types of Pets
My favorite types of pets are dogs, kittens, and reptiles!
Dream Pet
My dream pet is a blue nose pit bull and another golden retriever!
---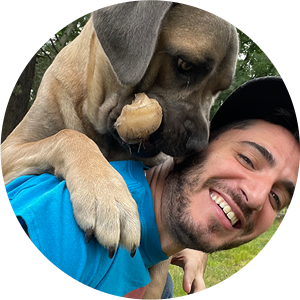 Michael C
Dog Walker/Pet Sitter
Hometown
Hamden, CT
Favorite Dog Nickname
Dipsey Doodles
Experience With Pets
I've had dogs all my life.
Current Pets
I have a 3 year old Chiweenie named Tilly. And I have a 1 year old demon child Dachshund named Donut!
Favorite Part About Working at YLD
To me honestly it doesn't feel like work. Just being able to give these animals some attention while their owners are away at work is just a bright spot in my day!
Why I Like Working With Pets
They give unconditional love! And with covid and everything going on right now. A little extra love is not a bad thing!
Favorite Types of Pets
English Bulldogs, French Bulldogs, Great Danes, Pit bulls, Beagles, and a Scottish Fold!
Dream Pet
A Great Dane named Barbara