First Annual Holiday Supply Drive for the Animal Haven in North Haven CT
by Amy Hazelton.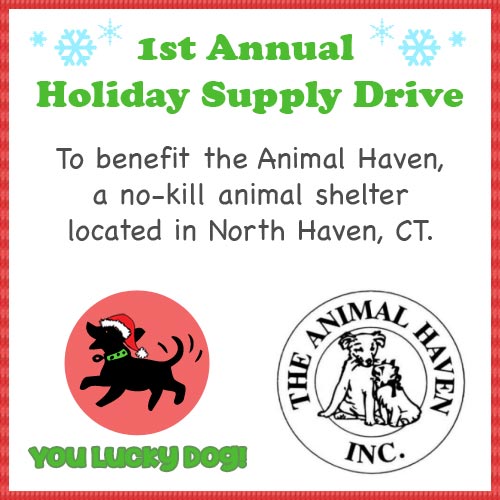 Hey Lucky Dogs!
We hope everyone had a wonderful Thanksgiving and is excited about the holiday season like we are! During the holidays, it's hard not to think about those who are less fortunate than us. There are many ways to give back through food drives, toys drives and clothing drives. With that said, You Lucky Dog will be holding our First Annual Holiday Supply Drive to benefit The Animal Haven, an animal shelter located in North Haven, CT!
Below is a complete list of supplies that we'll be collecting for the shelter:
– Dry dog food
– Dry cat food
– Dry kitten food
– Canned cat food
– Cat litter
– Dog/cat toys
– Pee pads
– Towels, sheets, and blankets
– Paper towels
– Bleach
– Dish soap
– Laundry detergent
– Dryer sheets
– Rubbing alcohol
– Cotton balls
– Tissues
– Hand sanitizer
– Rubber gloves
We'll be collecting these items until Monday, January 12th to ensure that our furry friends of the Animal Haven have a great holiday and start the new year right! Please consider helping us by donating from the list of supplies above or even donating your time at the Animal Haven!