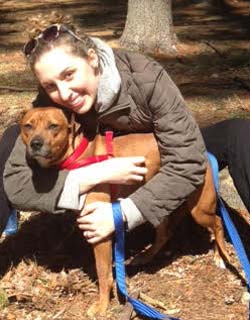 Amy – Owner/Dog Walker
Hi! My name is Amy and I've been called a "Dog Enthusiast" ever since I can remember. I think that's the nice way of saying "Dog Nut". I grew up in Framingham, Massachusetts where my dog obsession began at six-years-old: my parents finally gave in to the relentless pleads of my sister and I for a family dog. Mackie, a Wheaton terrier, was my best friend growing up and it was miserable having to leave him behind to study Psychology at Quinnipiac University. It was just plain awful! Luckily, only an hour and a half away from home, I could visit on weekends if I needed my doggie fix. I was so thankful to get that time with him, because the winter break of my senior year, Mackie passed away.
Heartbroken and still uncertain of what I should do with my life, I got a job as a nanny in the New Haven area. The family had two dogs, Portuguese Podengo mixes, that they had rescued and I figured this was the solution to my doggie fix. However, a tough start at life had left the two dogs skittish, afraid, and untrusting. The male, Romeo was easily bought with treats and regular snuggles; however, the female, Juliet, would not allow me to touch her and refused to look at me. For months, as I sat on the floor petting Romeo, Juliet would sit next to him, but the second I touched her in the slightest, she would up and run. Any time I tried to put a leash on her, she immediately flopped onto her back in a submissive position. However, once I got her outside, she was a different dog.
The family lived on a nature trail and Juliet loved to run around and bark at everything and anything that moved. She would run across logs and carefully traverse old rock-walls as if they were her own agility course.
After realizing her excitement and need for exercise, I made it a point to walk both of the dogs along this nature trail, as it was the only time I could connect with Juliet. I began to notice Juliet's self-confidence grow as well as our relationship. She began to let me touch her on her back. She also demanded our daily walks on the trail, continually barked all day long until she got her way.
Sometimes, she'd act out even worse acting out by seeking and destroying the children's toys and digging in the garbage. The yard was also full of holes that she had dug. Through patience and plenty of exercise and socialization, Juliet transformed from a once scared and sad little dog to a quirky, fun-loving little furball who is super smart, even affectionate, and makes noises that I have never heard a dog make in my life!
Slowly, over the 4 years that I worked for this family, I realized that the experiences I have had with dogs have made me happier and felt more rewarding than my original aspiration to work with children. I have also realized that not all dogs are fortunate to have someone home all day to take care of and play with them. You Lucky Dog, has enabled me to provide a service for people (and their furry loved ones!) while doing something that I truly love!
Since You Lucky Dog was created, my husband and I have adopted Reggie, an adorable super-mutt from The Animal Haven in North Haven, CT. Alike Juliet, Reggie's earlier life had left major emotional scars. He would tremble at the slightest touch and was incredibly fearful of everything. Overtime, through walks, affection, and, of course, plenty of treats Reggie has slowly become a more confident and playful dog who absolutely loves to snuggle! While he may never be a social butterfly, Reggie has shown me how important one-on-one attention can be with certain dogs.
If you have any other questions about me or my philosophy, please feel free to contact me at youluckydogct@gmail.com.
---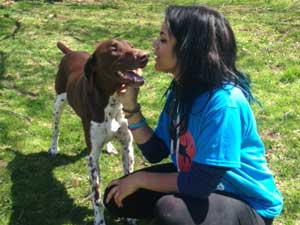 Ivonnie – Dog Walker/Pet Sitter
Hi! My name is Ivonnie and I've lived in New Haven, CT my entire life. Dogs have always been a huge and incredibly important part of my life. One day, my grandmother decided out of nowhere that buying me a puppy at the age of seven (without my parent's knowledge) was a great idea. Ever since, there has always been a loving dog in our household. As I got older, one dog turned into two dogs, and two dogs eventually turned into a crazy group of three absolutely amazing dogs. Our oldest pup, Benji (the Pekingese Poodle mix), has been a part of my life for almost 10 wonderful years! He is a delightful little ball of loyalty, intelligence, and unconditional love, and growing up with him has been nothing but rewarding. My middle fur baby Oli (the mutt), and our youngest English Bulldog, Oogie, joined the crew about 4 years ago.
At 18, I was determined that my first job would be one that would make me happy. After searching and searching, I stumbled upon an online ad for Groomer's Assistant jobs at Petco. The thought of being able to play with pups all day while I was pampering them sounded so appealing to me, especially since I already had a deep love towards dogs.
I soon found out that it was not just playing with pups all day, but also helping dogs with skin and allergy issues, dogs who had just been rescued and had curled-in nails, and dogs that vets couldn't even touch, but for some reason felt comfortable with me. I soon realized how rewarding it was to help people and their fur babies, along with the relationships that were created. Three years later, I am still working at Petco and will soon be a professional dog groomer.
Over the years, I've been able to use my love for dogs to offer overnight dog sitting and now, dog-walking with You Lucky Dog. I'm grateful and excited to be a part of this amazing team of people where I can build relationships with wonderful dogs while giving them tons of love and attention!
---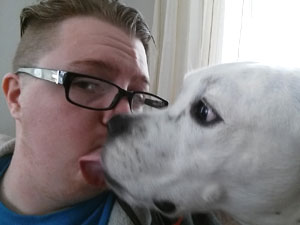 Mortimer – Dog Walker/Pet Sitter
Hello, hello! My name is Mortimer and I suppose you could call me an animal nut! I currently live in East Haven, CT with a pretty hefty household that includes our senior dog (Coco), our newest rescue pup (Gus), three cats (Loaf, Gizmo, and Cat), and two snakes (Huckabee and Poe), as well as my roommate, Jack, and partner, Andy.
I grew up in Spartanburg, South Carolina with a dog in the household for as long as I can remember. At the age of five, I made my family adopt our first rescue – a Cocker Spaniel puppy named Molly. She became my first dog, though we weren't sure she'd stick around for long, as I had to help my mom nurse her through parvo. Thankfully, she made it through and she was my best friend until my junior year of high school when she passed away.
After the loss of Molly, my parents were heartbroken and intent to being done with dogs until I somehow finagled my mom into getting another dog, a pug named Miyagi. Miyagi, though intended to be a family dog, wound up being my buddy. Eventually my dad wound up rescuing a pit bull named Punky since our pug had eyes only for me! Although they were an odd couple, they both gave me plenty of practice with handling big and small dogs, until eventually I had to move to Columbia, SC for college.
Unfortunately, I was unable to bring my pug along as my family was far too attached to him to let him go, though I was still able to get my doggy fix by visiting them whenever I could. My parents soon added a Boxer (Tyson) and a Chihuahua (Mocha) to their pack and I jumped at the opportunity to dog sit for them any time my parents went out of town.
Aside from pet sitting my parents' pooches, I'd also started caring for dogs at a doggie day camp and boarding facility called Camp Bow Wow, where I trained and worked for at least a year. I also continued to pet sit for my parents as well as some Camp Bow Wow clients until I moved to Connecticut to be with my partner. While I was sad to have to leave my parents and Camp Bow Wow pups, I still had a deep desire to continue working with animals. I started looking for a job immediately in pet care and found a nice fit on the You Lucky Dog team. I'm more excited than ever to continue working with dogs and making sure they get plenty of love and exercise while out on their walks!