Protect Your Dog During the Bitterness of Winter
by Amy Hazelton.
This winter we have been faced with some extremely unruly temperatures and conditions in North Haven and throughout Connecticut. Unfortunately for us dog lovers, that means a lot of indoor time for our pets and us. However, not all dogs are happy to be stuck indoors for these long periods of time. If you cannot find an indoor area for play, such as an indoor dog park in CT, this could mean taking the polar plunge into the outdoors for some much needed sunshine and exercise. Keep your pet safe when venturing our there, as the cold bites hard!
Watch the paws!
Stepping on frozen ice and snow can be detrimental to your dog's paws. These can cause cuts right into the pads and between the toes, which opens your dog up for a lot of pain, and possible infections. Don't forget the dangers of salt laid down on sidewalks and roads, and then tracked into stores from the bottom of people's shoes. This is all harsh on your pup. He may have the protection of fur and pads, but in these extreme temperatures he could end up with some injuries to his feet.
You can prevent a lot of this pain from obtaining boots made just for a dog's protection in winter weather. Investing money into a good pair of doggy boots will save you a lot of time and headache, and a lot of pain on your dog's feet. Most boots made for winter weather will be fleece lined, water proof, and provide traction on the sole to prevent slipping on ice. Before you buy, though, always measure your dog's paws! A small dog does not always wear a small pair of boots! A dog's paws can be a different size than you would expect, so measure up!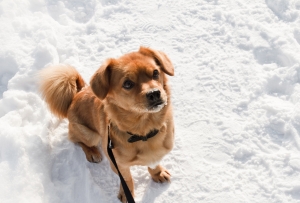 However, not all dogs are excited and willing to don winter footwear. Musher's Secret Paw Wax is a great way to protect your dogs' paws from the harsh elements of winter, especially rock salt. Simply coat your dogs' pads in wax to form a protective layer. Musher's Secret is also great as a moisturizer to use after outdoor explorations. We recommend that you do this before bedtime as to not coat your house in doggy paw prints. Amazon is a great place to purchase Musher's Secret as you can not only purchase it, but also read the reviews of dog owners' experiences using the paw wax.
As we all know, some dogs are just flat out stubborn. Many small dogs absolutely hate having their paws touched while others have a hard time holding still to have their feet touched. We recommend that if your dog goes outside without any sort of paw protection that you monitor their time outside carefully. If your dog is hesitant to put their paws on the ground or snow, they could have a paw impact in snow or the salt rock could actually be burning their feet. Upon bringing your dog inside, please inspect their feet for impacted snow and ice. We also recommended wiping their paws with a damp cloth to clean off any rock salt, which can continue to burn dogs' feet or harmful if ingested.
Bundle up if you need to!
Not all breeds will require a jacket or sweater, even in these extreme temperatures, when out for a walk or jog. Know your breed before running out to purchase your dog's new fashionable coat. Is your canine double coated with a thick and reliable undercoat? Breeds that contain this wonderful bit of fur include the Alaskan Husky, Australian Shepherd, and Samoyed. Research your dog's breed or mixes, feel his coat and make a sound judgment call as to whether or not he needs that insulated doggy snow suit before you accidentally overheat him or her.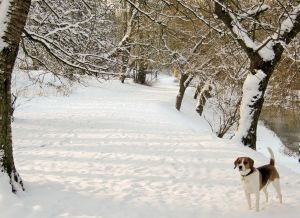 Use common sense
If it's too uncomfortable for you, think twice about venturing outdoors, even just for your daily dog walk in North Haven. Your dog, even if he is fully insulated and happy in the cold, is depending on you to care for him. If you are too distracted by your own discomfort of the cold, then he will not be able to utilize the opportunity of exercise outdoors. Think of indoor games and sports you can play with your dog in your home that will get both his mind and body working together, and the both of you can stay warm and safe from the freezing temperatures.